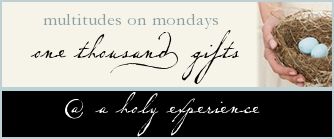 131. My dad--such a great dad.
132.
Scott
--such a great dad.
133. The library open until 8:00 pm = a childless trip to the library this afternoon after Scott got home from work.
134. Having four new Mitford books to read thanks to the trip to the library.
135. Another run, another chance to "work out the stress."
136. A new skirted swim suit ordered off of
Zulily,
using credit. No money out of pocket!!
137. Right after ordering the swim suit, receiving an e-mail letting me know that I have MORE credit on
Zulily
, thanks to someone signing up under me.
138. The anticipation of a
brand new niece
arriving any day now.
139. John's chubby, little finger pointing out, "John's nose," when prompted.
140. Ada announcing that she wants to be a princess when she grows up, but asking that, "no mean guys be in it."