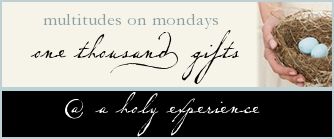 I'm a day late, but here goes...
181. After six weeks of tutoring with CC, finally getting a paycheck, and Scott saying it was mine to do with as I wish.
182. Wonderful, insane deals to go with that paycheck. (For example, a Banana Republic dress, originally 60.00, I got it for 13.00.)
183. A random Home Depot coupon for buy two, get one free mum, adding a little bit of fall to my front
and
back porch.
184. Finally,
finally
, finding a hair salon that I like here in McDonough--
two minutes
from my house and open on Saturdays (so Scott can stay with the kids).
185. John's little hand softly patting my back when I cuddle with him in the mornings after he wakes up.
186. Ada reading several words without us getting in an argument to make it happen. We're getting there.
187. So many wonderful fall days spent outside with the kids.
188. Bringing fall inside with two new candles from Bath and Body works (bought with a B1G1 coupon)--leaves and spiced apple toddy.
189. No afternoon tutoring this week. A welcome break!!!
190. Beautiful canopy of trees on the backroads between here and school on Tuesday mornings. It is just the pick me up I need to snap me out of my sleepy state each Tuesday morning.
As always, there is much to be thankful for. I love fall. I love it. It is good for my soul.
It makes me want to escape to a cabin somewhere surrounded by nothing but gorgeous trees and crisp air. It's a tempting thought...