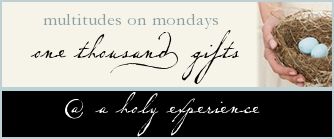 61. A simple procedure to fix John's eye, scheduled for May 17th.
62. In the mean time, eye drops to easily fix his 10 millionth case of pink eye.
63. My house standing; my family safe.
64. Power and warm showers.
65. The book
Trusting God
. The timing of my reading that book could not be more perfect.
66. God's word, which is always true in the midst of my circumstances.
67. John eating the strawberry-banana muffins that I made today. We are making progress in the area of fruits and vegetables.
68. John beginning to like lots of people other than me; it's giving me some breathing room.
69. I have listed this before; can I list it again? I am thankful for it again today--
Friends who carry my burdens.
70. The homemade soap that my mom bought for my hurting skin. It's so easy on my skin.
It's an ordinary week here at our house. There is not much to report. I continue to watch the videos of last week's tornadoes and to read the different stories. I continue to be blown away by it all. I also feel like I haven't gotten enough of the Royal Wedding. Such a contrast, right? And then there is the Osama Bin Laden news. So much to think about and all such different ends of the spectrum.
As for our family, as I mentioned above, John has pink eye--AGAIN, but that is to be expected until we finally get his tear duct unclogged. I can't wait to see him with two clear eyes.
My skin is not clearing up, so I will most likely be going to yet another doctor. I am feeling quite discouraged with that whole situation because no one can figure out what is wrong with me, which means no one can figure out a solution, and it is becoming quite painful. Not to provide too much information, but in case anyone has any insight--it is like my feet and hands are covered in broken blisters. It starts out with a spot itching very badly, and when I scratch, the blister forms and breaks. It covers my right foot--top and bottom and toes, though the bottom of my foot has now cleared up. It also covers a lot of my fingers, the tops of my hands, and a few spots on the palm of my hands. It's especially painful on my hands because, obviously, I use my hands for everything. I have a few random spots on my legs and and arms. I have been to a general doctor and a dermatologist here, and my childhood pediatrician and a dermatologist in Huntsville, and everyone is baffled. All doctors have given me something to try, and the most recent solution has helped the most, but it's still spreading on my hands. I thought my feet were clearing up, but today the spots have begun to form again. The Huntsville dermatologist will most likely be referring me to a new doctor here. So, that is a more detailed explanation of what is going on with that, in hopes that someone has some insight :) Probably not, right?
Anyway, I really am
so thankful
that we are safe and sound. I was not even a part of the tornadoes last week, other than one quick scare, and, still, I will be taking tornado warnings
very seriously
in the future. Even the other night, I debated not waking Ada and John to get them into the closet--it will not be a debate next time. I repeat, I can't stop watching the videos. It's unreal.