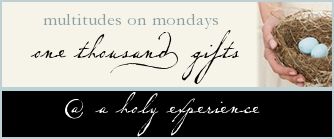 Thankful again, so thankful. The blessings are always there when I take the time to look for them.
39. The toddler stage. I love that John's personality is starting to develop so much, but that at the same time he is still my cuddly baby boy. Precious thing.
40. Ada tickling John, and the squeals and laughter from both of them.
41. Doctors and health insurance. So very thankful for health insurance.
42.
Two, working cars!!!!
43. Peace in the midst of chaos. God's word is true--
do not be anxious about anything, but in everything, by prayer and supplication, with thanksgiving, present your requests to God,

and the peace of God, which surpasses all understanding, will guard your hearts and your minds in Christ Jesus.
44. Discovering a broken air conditioner before the heat of the summer sets in.
45. Quick, fixable problems, and we have cool air again!!
46. Dirt roads and green fields. I think I am a city girl, and then I breath in all that fresh air, and I second guess myself.
47. Real questions from Ada about how Jesus felt when he died on the cross. Keep her questioning, Lord, keep her questioning.
48. Couponing.
49. Dove coconut and dark chocolate eggs.
50. This family--I joke that I am "just living the dream," but isn't that exactly what I am doing? Because at the end of the day, there is nothing I want more than these people right here with me within the four walls of my house. My treasures.